One Man's Verdict on Bush's Illegal Worker Plan
Submitted by R.McElroy on Fri, 2004-01-09 00:31
President Bush, finally, has done something I like. His proposed plan to allow temporary non-citizen workers in the United States has drawn fire from almost all major media outlets (except the much more rational Economist) as a political ploy, which it very well might be. Nevertheless, this Catallarchist applauds the proposal.
There are several objections to this kind of proposal, many of which have already been thoroughly refuted. Let me outline a few.
1. Immigrants take jobs from Americans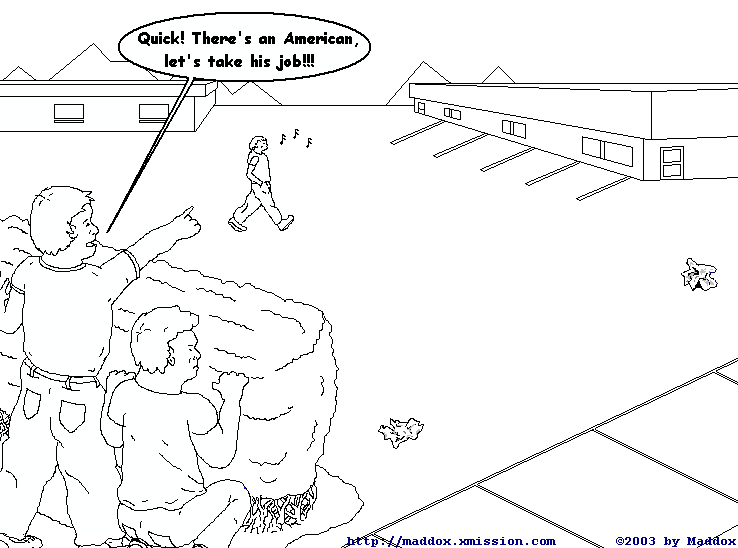 No one claims, for example, that Wal-Mart shouldn't be allowed to sell their products for less than Target sells theirs (except for Target) and then it's easy to see that the consumer benefits. Now take the same argument and apply it to a construction company. If an immigrant will sell his labor for less than a citizen will, the client benefits.
Wal-mart didn't "steal" Target's clientele because Target wasn't entitled to the clientele. Likewise, the immigrant didn't steal the job because the citizen wasn't entitled to it. Those who would dispute this position, mainly anti-immigration conservatives, seem a lot like their liberal counterparts all of a sudden.
Now that the money is not spent on more expensive labor, it can be spent on something else. The citizen, whose labor was priced too high for that line of work, does not get that money, but it doesn't disappear down a memory hole. It goes somewhere else. Maybe it goes in the bank where it is loaned out to facilitate the creation of new wealth. Maybe it goes to the doughnut shop down the street. Maybe it goes anywhere, but it goes. Somebody gets the benefit.
2. We need more security at our borders
According to news articles, more than half of the illegal workers in USA are Mexican. Many others are from further south, and some are from China. These people are not trying to hijack planes. I grant that monitoring Islamic fundamentalists from Yemen might turn up some suspicious characters. I even grant that not everyone comes to do honest work in the USA and treat all owned property with respect. But there's a world of difference between Al Qaida and La Raza. Ann Coulter be damned; Mexicans are not the problem. Foreign workers, as shown in the above example, are doing good things and should be encouraged.
3. This is just an election ploy
This one has the most merit. It very well might be just an election ploy. But it's still overall a positive idea.
And anyway who's counting? There are hordes of true believers in the political circle, but reading almost any Congressional website will reveal shameless political ploys. If that is a criterion of the virtue of an idea, the charge-makers have some serious 'splaining to do.
»
---